Our Company
Clean, silent, inexhaustible energy with zero emissions
Sur de Renovables is principally engaged in the execution of electrical energy generation projects based on renewable energy sources.
A pioneer in the Andalusian renewable energy sector since 1995, our extensive experience allows us to add value at every stage of a project - from locating resources right through to selling the energy generated to the grid.
With a capital stock of over 10 million euros, we remain committed to the same principles of safety, respect for the environment and efficiency that have enabled us to compete at global level in project design and in the development and running of power plants.
We work hard to research new sources of energy, prioritizing innovation and continuous improvement in our different business areas. Our ultimate goals are long term sustainable development, the establishment of a solid new diversification strategy and the preparation of our company to meet the challenges posed by new markets.
Experience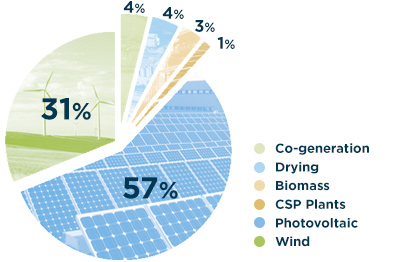 To date our team has designed, built and put into operation numerous projects, including cogeneration and biomass facilities, wind farms, and photovoltaic and solar thermal power plants, always striving to achieve the highest quality and create an efficient model of resource management as a means for increasing profitability both in our own plants and in those of our customers.
With an extensive portfolio of operational plants and project designs, our strategy continues to be based on the same key principles: sustained growth, financial robustness and innovation. Thanks to our human team of young, highly motivated professionals we have been able to consolidate our company's growth within Spain and initiate a process of internationalization aimed at breaking into new markets.